"My interest in mathematics led me to Economics" – Asel Raiymbekova, ECO-112
I was given an incredible opportunity to get a high-quality education at one the best universities of Kyrgyzstan, AUCA. Those four years have made a huge contribution to my intellectual, professional, and personal growth. My interest in mathematics led me to economics as my future profession; however, I fell in love with it. Studying in my department, I have learned to conduct my own research, to work with statistical data, to analyze information, and many other things. I have improved my analytical, technical and quantitative skills.
During my studies at AUCA I was presented with a lot of opportunities to volunteer, to intern in both commercial and governmental organizations, and to take part in exchange programs abroad. One of the best experiences I had was an exchange semester at the Norwegian University of Life Sciences (NMBU). It was great chance for me to broaden my perspective on Economics. The new environment, new people, and different culture were another challenge for my self-development. It was a life-changing experience for me and I wish every student could experience it.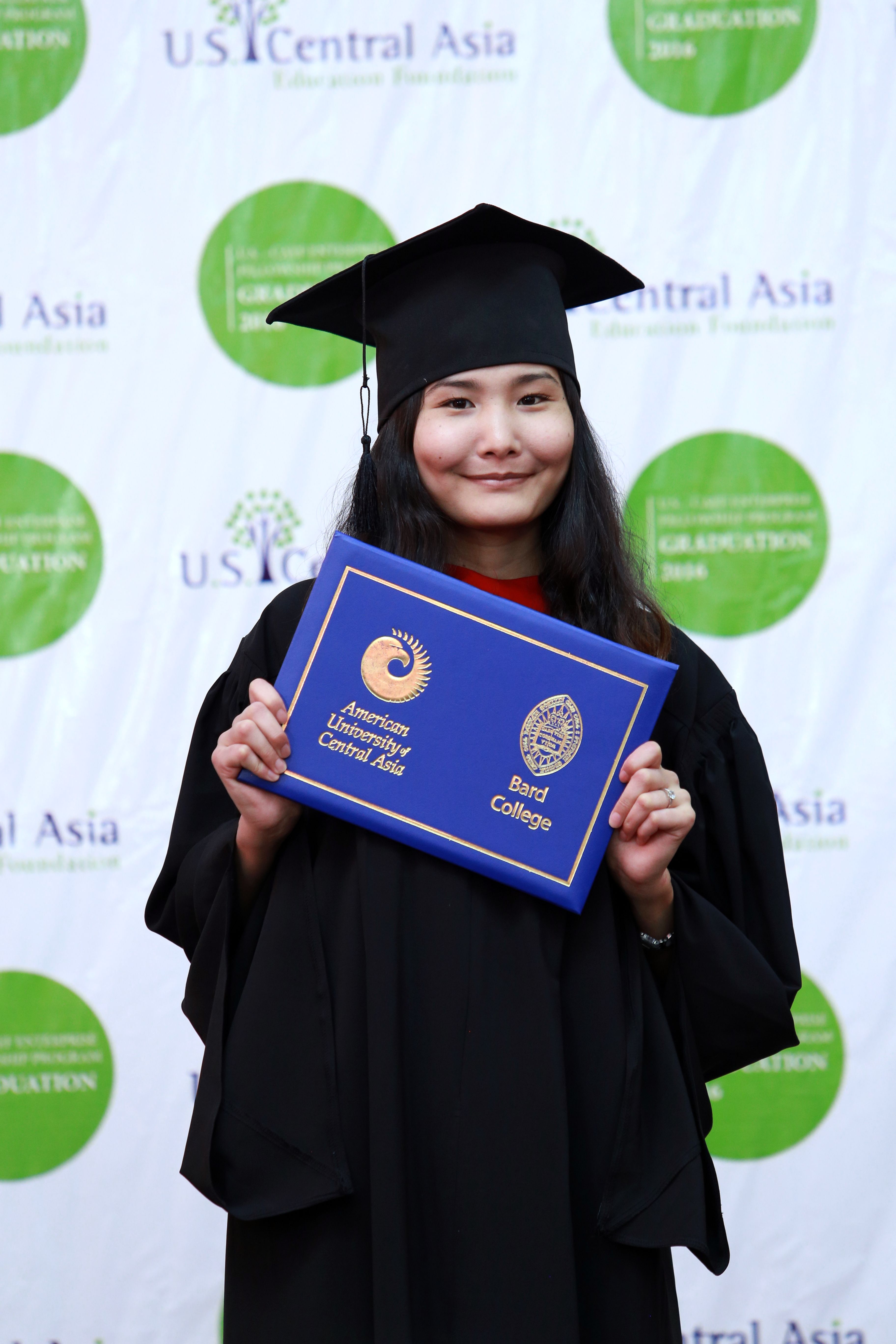 Looking back on these four years of my life, I want to express my deepest gratitude to the U.S.-CAEF program for making my time at AUCA possible. I am forever grateful to the professors of the Economics department, especially Nurgul Ukueva, Akylai Muktarbek kyzy, Rahat Sabyrbekov, Zarylbek Kydabaev and Lyudmila Konstanc, for their knowledge and patience during my college career. I am thankful for having ECO-112 as my classmates and Aikumush as our office manager. They made these years joyful and unforgettable. Finally, I would like to thank my dearest parents, friends and significant other for supporting me during all the hard times and helping to overcome any challenges I faced.
When I think about the future, I see a lot of hard work, learning, and challenges. I believe my and other young people's desire to contribute to the economic development of our country will make a big impact on the history of our Republic.
Nurgul Tilenbaeva: "Studying at AUCA was truly a landmark moment"
Nurgul Tilenbaeva, previously an AUCA alumni ambassador in Hungary, is now living in Geneva, Switzerland and doing her PhD in Development Economics at the Graduate Institute of International and Development Studies. Nurgul graduated AUCA in 2010 from the department of Economics. She has shared with us her experiences studying abroad and memories of being a student at AUCA.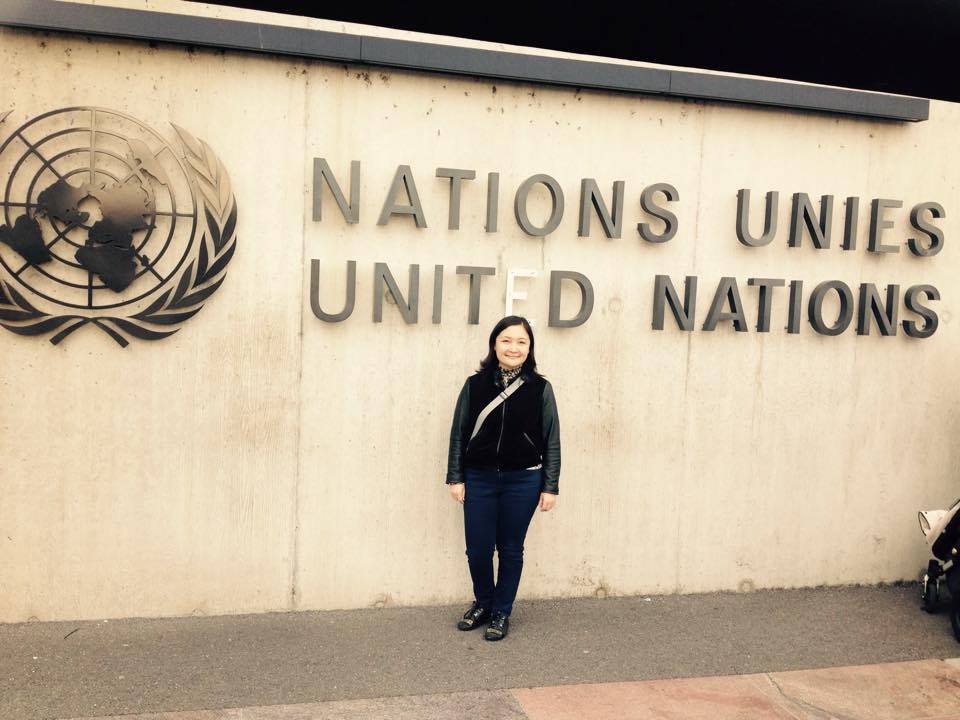 What has been the role of AUCA in your career path?
Studying at AUCA was truly a landmark moment for me. It opened so many doors but, even more importantly, it changed my way of thinking. Imagine living in a country where corruption is so ubiquitous that it finds its way into education. At school, we are raised in an environment where it is OK to copy your schoolmate's homework, to cheat on the exam, to plagiarize, and to win the city's school Olympiad because your mother is on the panel of judges. And we do not criticize it. Rather, we brag about an easy grade and tell stories that become subject of amusement and fun. So it is no surprise that young school graduates have no faith in the system and, what is worse, have no faith in themselves. So for me, being accepted to AUCA only by virtue of my abilities and academic accomplishments was unheard of. On top of that, I received a generous scholarship, which meant studying at AUCA would be almost free. That was the first defining moment that made me realize that there is still hope, and that it is still valued to be smart and hard working. I was pleasantly surprised to discover that there is no cheating, no plagiarizing, and no bribing teachers to get good grades – things you frequently hear from students of other universities. While at AUCA, I learned to believe in myself and realized that everything is possible if you just try hard enough.
I think, this faith in myself and the belief that everything is in my hands has helped me achieve success in my career and my further education. My junior year, I went to the United States of America through a Global Undergraduate Exchange Fellowship (Global UGRAD). After graduating from AUCA, I was accepted to the Central European University in Budapest, Hungary for an MA in Economic Policy in Global Markets. Later, I worked in various private and public sector jobs: Roche, Fund for Progressive Initiatives, Westminster Foundation for Democracy and Organization for Security and Cooperation in Europe (OSCE). At the moment, I am in my first year of a PhD program at the Graduate Institute of International and Development Studies in Geneva, Switzerland. My PhD program is in Development Economics – something extremely relevant for Kyrgyzstan.
What were the highlights of your time at AUCA?
A funny episode of my life at AUCA: when we studied at AUCA, we did not have laptops and, in general, not many people had their own computers even at home. And "that time of the day" when the sign-up sheets for computer labs came out, was a crucial moment of the day. I always felt sorry for the guy who would bring those sheets–it was like the "Hunger Games" ☺ Plus, each student was given 1.5 hours per day to use the computer lab and after 6.00 pm this time allowance was extended. So, my freshman year, my friends and I felt obligated to use those 1.5 hours and did not leave for home until we were logged out of the system. ☺ We were so jealous of the seniors who had 3 hours per day!
On a more serious note, AUCA was a place where I met some of my life-long friends, great professors and, in general, so many interesting people. Whenever I visit AUCA, I feel very nostalgic of those wonderful moments that I had back then.
What do you consider your biggest achievement after graduating AUCA?
There are two things that I consider my biggest achievements. One is when I received an "Outstanding Academic Achievement Award" at the Central European University, on my graduation day. This award is given to one student from each department who is ranked 1st throughout the whole studies, which means that this person has the highest GPA. I felt incredibly proud to be the recipient of this award.
The second thing I consider a big accomplishment is being accepted to the Graduate Institute of International and Development Studies in Geneva, Switzerland. This is the most prestigious university in Switzerland, and it has an excellent reputation across Europe and the world. The university once opened its doors to Kofi Annan and other extraordinary people, like Nobel Laureates, heads of state, members of Parliament, diplomats, etc. Being part of the PhD program in Development Economics is especially fulfilling, because you understand how important the issue of development is. At the same time, you feel a lot of responsibility, as you are trying to search for a cure to poverty and under-development. My favorite things about my PhD studies are the intellectually stimulating environment, the opportunity to do original research, and the realization that you may change people's lives.
What is your relationship to AUCA right now?
Unfortunately, there are not many AUCA alumni and, in general, people from Kyrgyzstan in Switzerland. However, I do hope that there will be more and more of us in the future. Organizing an AUCA chapter in Switzerland would be my plan for the future.